Apr 11, 2007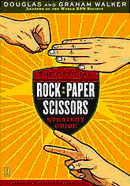 That's right!  Due to popular demand (and the fact that it's hard to find a copy around Philadelphia) you can get your very own copy of the Official RPS Strategy Guide by Doug and Graham Walker while supplies last at any PBRPRPSCLCS event this season.
For just $10 (that's the same as if you bought it at the store) you can study up on the history, strategy and pretty much 200 pages of all things RPS.  Not to mention your esteemed Referee C. Urbanus is mentioned on page 62, 72, 92, and 193.  Not that anyone is counting how many times they're mentioned in a book (that's an average of once every 25 pages…not bad at all).
This book is a must have for any aspiring PBRPRPSCLCS Champion. 
Leave a Reply
You must be logged in to post a comment.