Jun 8, 2007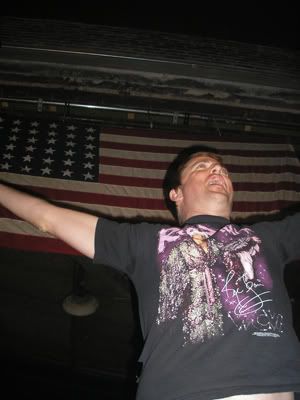 Dear Sir Urbanus,
I would like to inform you and the great fans of the PBRPRPSCLC of my
intention to come out of retirement to participate in this years
championship. Â I had planned on staying retired, at least until I found out
how weak the competition was this year. Â I sense an easy victory. Â A quick
note to my fellow competitors: If I were you, Â I would ask Mr. Urbanus to
keep you out of my bracket and thus maintain your dignity, because I plan on
steamrolling past you pathetic minions on my way to a repeat title. Â At that
time, I will suggest that the championship change it's name to the Pabst
Blue Ribbon Philadelphia Rock Paper Scissors Johnny Goodtimes Memorial City
League Championship (the PBRPRPSJGTMCLC, for short).
The surest way of not being humiliated by a great champion like myself is
staying home tomorrow night, and crying your sorry self to sleep, knowing
that you will never be a champion, and I will always be a champion. Â To be
the man, you gotta beat the man. Â But I don't think you're ready to walk
that aisle. Â Wooooooooooo!
Truly Yours,
JGT
One Responseto "Statement From 2006 PBRPRPSCLCS Champion Johnny Goodtimes!"
Leave a Reply
You must be logged in to post a comment.