Feb 15, 2007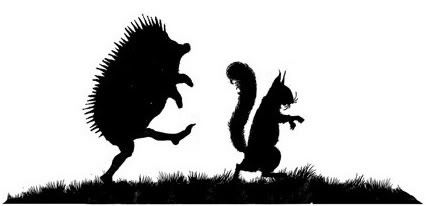 The PBRPRPSCLCS is pleased to welcome our new partner, Squirrel and Porcupine (a play by Alec Coiro, the PBRPRPSCLCS acclaimed writer/prooducer/director/star of Kid Dynamo and the Cookie Cutters Club). 
Squirrel and Porcupine is the muscial adventure of a young squirrel and a young porcupine who wander away from their woodland home.  It is also the story of two metropolitan-seeming Canadians who wander into the quaint woodland hamlet to do a little antiquing and…meddling.
It'll be running in New York from March 1-10.  Tickets aren't available yet, but should be shortly.  Check out www.squirrelandporcupine.com for full details.
There may even be a chance to win yourself some free tickets at the March PBRPRPSCLCS tournament in a few weeks.
One Responseto "Welcome to Squirrel and Porcupine!"
Leave a Reply
You must be logged in to post a comment.