May 13, 2008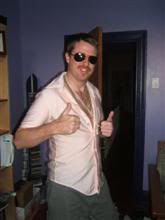 With only 2 events left at the Khyber this season, things aren't looking so good for 2006 Champion and 2007 final 4 finisher Johnny Goodtimes.  5 weeks in and the former Champ has a total of 0 points in 0 events and looks like a very long longshot to qualify for the 2008 Championship.
I'm sure that this news brings great sadness to the Philadelphia RPS Community.  This means that only Baconshark has a shot at a repeat Championship on June 7th.
Leave a Reply
You must be logged in to post a comment.