Jun 12, 2008
The 2008 Championship was the hottest day yet in the history of the City League (literally).  But thanks to Connie's Ric Rac for hosting the Championship and thanks to Pabst Blue Ribbon for not only supporting the City League as Title Sponsor once again, but also supplying a good amount of the beer that kept everybody as cool as could be.
Here's a brief recap of the 2008 Championship:
The Majestic 12 came in with about 11 players who have some sort of affiliation.  David Bowie's Package were in full force, as was the Paper Cut Posse.  The Foes of Strawbanus (who put 3 in the top 8 last year) were a little fewer in force than usual and the Dirty Dozen fielded but two of their group.  Noticably absent from competition was 2007 total points leader El Toro Papaya of team Feed the Pony.  The seedings worked out in a strange way, so that there was only one match between teammates (Uncle Mikey Vs. Fists of Iron in the Round of 32).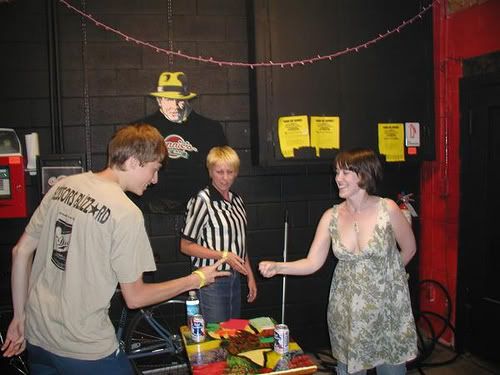 The Majestic 12 lost 5 of their 11 affiliates in the opening round (Including official and founding member the Scissors Blizzard - eliminated by Harper Lee above), not a good sign of things to come for the team that swept the season prizes this year.
The round of 32 saw some intriguing matchups, as good veteran players who had been ranked higher in previous seasons were lower in the rankings this year.  This led to a matchup of Master Fister Vs. 2007 Champ Baconshark in the 2nd round.  Master Fister was actually seeded higher than the reigning Champ last year and showed why as he knocked out the Baconshark (above) to end his dream of 2 consecutive Championships.  The round of 32 also saw 2007 runner-up Mr. Strawberry eliminated as well as 2 more of the Majestic 12's group.  The Paper Cut Posse lose 2 this round, and Team David Bowie's package lose 3.  Frankie 13 was beaten by Rock Doctor, marking the 1st time he hasn't lost to the eventual Champion in the final 8.  Full round of 32 rundown:
#55 Master Fister defeats #1 Baconshark
#2 Loomer defeats #50 Sean G
#3 PJ Rhymeswithsausage defeats #46 Mets
#4 Paper Tiger defeats #40 Harper Lee
#37 The Droog defeats #5 The Fighting Mongooses
#6 Le Tigre defeats #33 Jake Falkenburg
#32 3 Finger Bill defeats #7 Zombie Llama
#8 Billy Shearz defeats #30 Sister Kathleen
#9 Grim Trigger defeats #28 Posthumyn
#27 Mr. Is defeats #10 J. Martin Hill
#11 Hulk Hoagie defeats #26 Dance Rock Saskatchewan
#25 Rock Doctor defeats #13 Frankie 13
#14 Danny Awesome defeats #24 Tits McGee
#23 Get Your Rocks Off defeats #15 Gizmo
#22 Fist of Iron defeats #16 Uncle Mikey
#17 Von Damonator defeats #19 Mr. Strawberry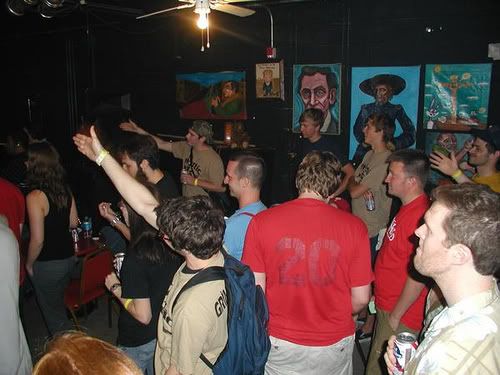 In the final 16 there were several upsets, a trend that would continue the rest of the evening.  Of the 8 matches played, only 2 were won by the higher seeded player (Loomer and Billy Shearz – all that remain of MJ-12 and company).  Even Hulk Hoagie lost, despite the loudest Hoagie chant on record (above).  2 Paper Cuts remain in the Final 8, but to the surprise of many they are not Le Tigre and Gizmo, but The Droog and Fists of Iron.  Both of the Dirty Dozen on hand advance as 3 finger Bill defeats the Paper Tiger in a thriller and Von Damontaor eliminates the last Foe of Strawbanus Danny Awesome.  The hopes of a 2nd straight Championship for David Bowie's Package rest with Mr. Is.  Full final 16 roundup:
#2 Loomer defeats #55 Master Fister
#37 The Droog defeats #3 PJ Rhymeswithsausage
#32 3 Finger Bill defeats #4 Paper Tiger
#27 Mr. Is defeats #6 Le Tigre
#8 Billy Shearz defeats #25 Rock Doctor
#23 Get Your Rocks Off defeats #9 Grim Trigger
#22 Fist of Iron defeats #11 Hulk Hoagie
#17 Von Damonator defeats #14 Danny Awesome
In the final 8 the only higher seed to advance is 2008 season point leader Loomer of the Majestic 12 (above).  Billy Shearz has his bid for a 2nd consecutive Championship Final 4 appearance denied by 3 Finger Bill, who loses his teammate Von Damonator by virtue of a loss to Mr. Is.  Unaffiliated player Get Your Rocks Off knocks out Fists of Iron and the Paper Cut Posse has their 2008 season come to a close without a Championship title.  Scorecard:
#2 Loomer defeats #37 The Droog
#32 3 Finger Bill defeats #8 Billy Shearz
#27 Mr. Is defeats #17 Von Damonator
#23 Get Your Rocks Off defeats #22 Fist of Iron
In the Final 4 the upsets continue and neither of the higher seeds advance to the Championship match.  Season point leader Loomer is taken out by 3 Finger Bill and Get Your Rocks Off is defeated by Mr. Is.  This makes it a Dirty Dozen Vs. David Bowie's Package showdown for the 2008 Championship.
In the Championship round the 1st match went quickly to Mr. Is and it appeared that the title would remain with David Bowie's Package for another year.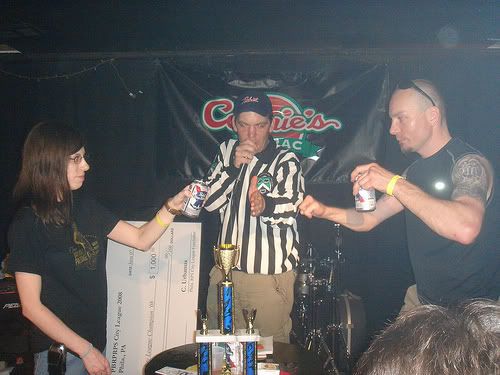 Bill quickly took the next two sets and then the first throw in set 4, putting him at Championship point.  After one of many time outs called by 3 Finger Bill on the night (below), Mr. Is took two straight throws to tie everything up at 2 matches each.  Could Mr. Is snatch victory from the jaws of defeat?  Would 3 Finger Bill snatch defeat from the jaws of victory?
In the final match Mr. Is took the first point.  3 Finger Bill answered right back, putting both competitors one throw away from their first City League Championship title.  The next throw was a tie and the pressure continued to mount.  Then Mr. Is' Paper covered up 3 Fingered Bill's Rock and the comeback was complete.  Mr. Is was lifted to the heavens (or as far as Connie's Ric Rac allows) by her teammates as the 2008 PBRPRPSCLCS Champion, the 2nd consecutive championship for team David Bowie's Package.  Even the Majestic 12 (below) celebrated this well earned victory.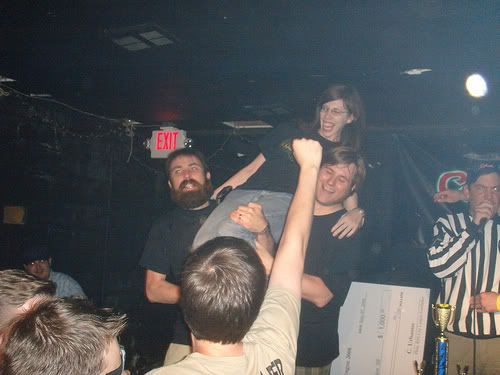 Team David Bowie's Package (above) had even more reason to celebrate, as PJ Rhymeswithsausage won the Street RPS prize as well as the non-existant prize of best facial hair in the league, defeating the Fighting Mongooses of the Majestic 12 in both by a score of somewhere in the area of 217-184 and a kick ass beard to a pretty good beard.  David Bowie's Package rules!
Leave a Reply
You must be logged in to post a comment.