May 7, 2008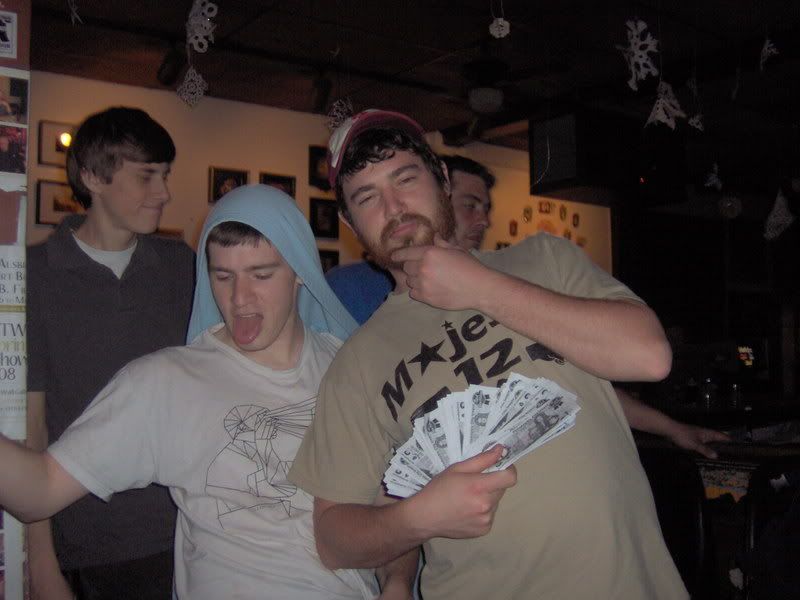 Two week running Dirty Franks champion Gizmo was unable to attend to go for the three-peat, so Loomer (above – victory dance in progress) tied the City League record for tournament wins in a season at Dirty Franks.  Two others have made it to three before – Female Ninja Whore in 2006 and Dance Rock Saskatchewan in 2007.  But they both made it with only two weeks remaining in the season, whereas Loomer has a full 4 weeks after this to go for win #4 and the record.  Number 3 didn't come easy as the Paper Tiger gave him all he could handle in the finals, where once again the Championship came down the the last throw in the 5th match.  Paper Tiger could have made it only a 3 point lead on the season for total points if he had won, but it now remains a 7 point lead for Loomer.
The Fighting Mongooses (above – not dancing or looking embarrassed) won the street prize on the night by a total of 98-45 vs. closest runner-up Von Damonator, completing the sweep on the night for MJ-12.
Speaking of Von Damonater – If you're looking for something to do outsidey tonight, swing on down to 5th and Federal to watch and cheer on the Dirty Franks softball team  (coached by Von Damonator) as they take on the hated New Wave Cafe.  Cans of beer are allowed and you'll recognize a lot of the softball team, which doubles as the house RPS team The Dirty Dozen.  Go Dirty Franks!
Leave a Reply
You must be logged in to post a comment.