Jun 8, 2008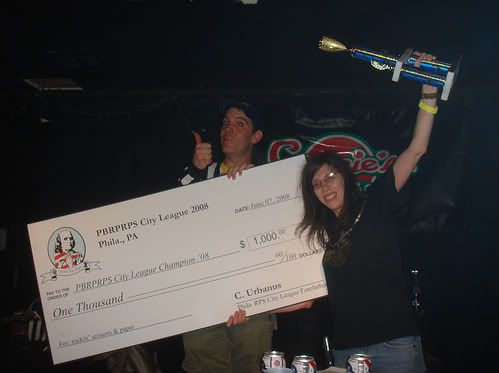 Mr. Is, of team David Bowie's Package, has claimed the title of 2008 Pabst Blue Ribbon Philadelphia Rock Paper Scissors City League Champion after her defeat of 3 Finger Bill of the Dirty Dozen in the finals. It came down to the last throw in the 5th set with Mr. Is' Paper covering 3 Finger Bill's Rock for the victory.
This marks the 2nd year in a row that Team David Bowie's Package has won a City League title, with Mr. Is following the lead of her teammate 2007 PBRPRPSCLS Champion Baconshark. This Championship was a clean sweep for the package, as Mr. Is won the title, PJ Rhymeswithsausage won the Street prize, and Zombie Llama won the 50-50 raffle.
Full update coming tomorrow probably Monday night.
It seems that, once again, Team David Bowie's Package rules!
Leave a Reply
You must be logged in to post a comment.