Jul 30, 2008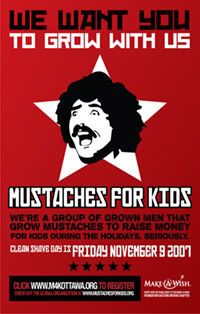 The PBRPRPSCLCS Executive Committee, always fond of both mustaches and finding ways to make a positive difference in the local community for a change, has passed a resolution to begin exploratory research for the establishment of a Mustaches for Kids Philadelphia chapter.
If any members of the PBRPRPSCLCS community would be interested in taking part of this do-gooderness around the holiday season, please contact C. Urbanus at urbanus(at)rpscityleague(dot)com.  Remember, this is for the kids and you will actually be expected to raise money.
One Responseto "Mustaches for Kids in Philadelphia?"
Leave a Reply
You must be logged in to post a comment.