Jul 10, 2008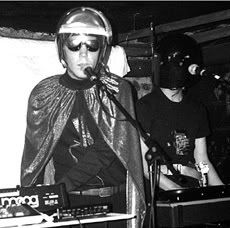 Well it seems that there are still fans of the once mighty 3.5 Megabytes that rocked New Brunswick, NJ from 1998-2000 and then Montreal on and off from 2001-2003.  Much to the surprise of the former band members, a MySpace page has popped up with the demo tape from 1998 that was recorded at Charlie's house in Princeton the day after all the songs were originally and drunkenly written.
The songs are not safe for work, unless you work in a warehouse or maybe a RPS Administrative office.  I think Robo Angst is the only one that would be OK for an office setting.  Unfortunately, this is the oldest material and I'd say Naughty Computer is probably the best of the bunch since this recording predates the later hit Hot Lunch (let's see how many hits the site gets for that).
If you have a MySpace profile then friend 'em up (since there's only, like, 9 at the moment).  The keys to the page have been handed over to the band so it may undergo a major renovation soon, although that may take awhile.  Don't forget to make friends with the PBRPRPSCLCS while you're over there.
Oh yeah, here's a 3.5 article from Vice.
Leave a Reply
You must be logged in to post a comment.