May 19, 2009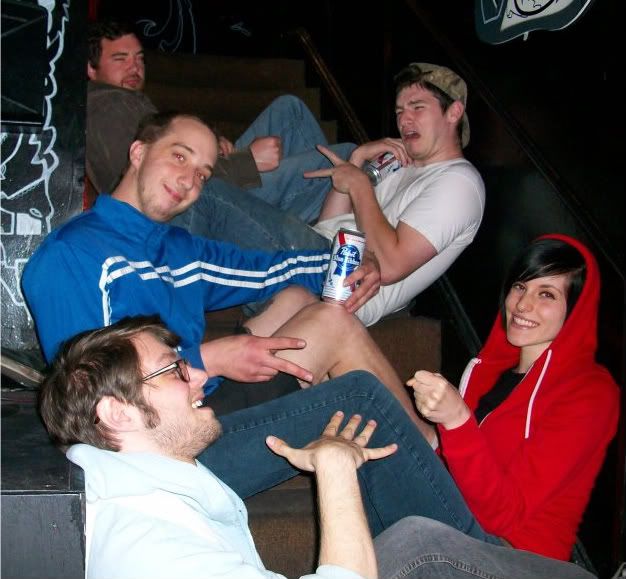 Billy Shears of the Majestic 12 (blue jacket above, playing stair RPS) won his 2nd tournament in a row at the Raven Lounge on Monday – he also took the title at the Dive last Thursday.  He defeated birthday boy El Toro Papaya by a score of 3 matches to 1.  All this on a night when El Toro Papaya supplied Strawberry cake (served to the losers by Mr. Strawberry!) and pizza to the sellout crowd on hand to celebrate his special day.  It was also Squidlings birthday, and she got Strawberry cake and pizza to celebrate her special day (as well as a loss to El Toro Papaya in round one).
Billy Shears now has 3 tournament wins on the season which ties his teammate Loomer – and used to be the record for a whole season until Loomer won 4 last year.  Don't be forgetting that Billy Shears also made it to the final 32 at the World Rock Paper Scissors Championships this past fall, losing only to the 2008 World Champion.  To this day, many believe that Billy Shears would have won the whole thing if not for an unfortunate case of extreme sleepiness that somehow happened.  Oh yeah, he also moved into 2nd place on the season and his W-L record this year is a very impressive 21-5.  The Fighting Mongooses of the Majestic 12 is attempting to balance this out by not winning any matches all season – a goal he is over halfway towards attaining.
Grim Trigger (lower right - lower right) and the Fighting Mongooses (top) had the most Street money on the night and decided to play for it – and Grim Trigger took it tournament style.  He ended up with $160 and it has, for the moment, bumped him into the lead in that category for the season.
Leave a Reply
You must be logged in to post a comment.