Apr 24, 2009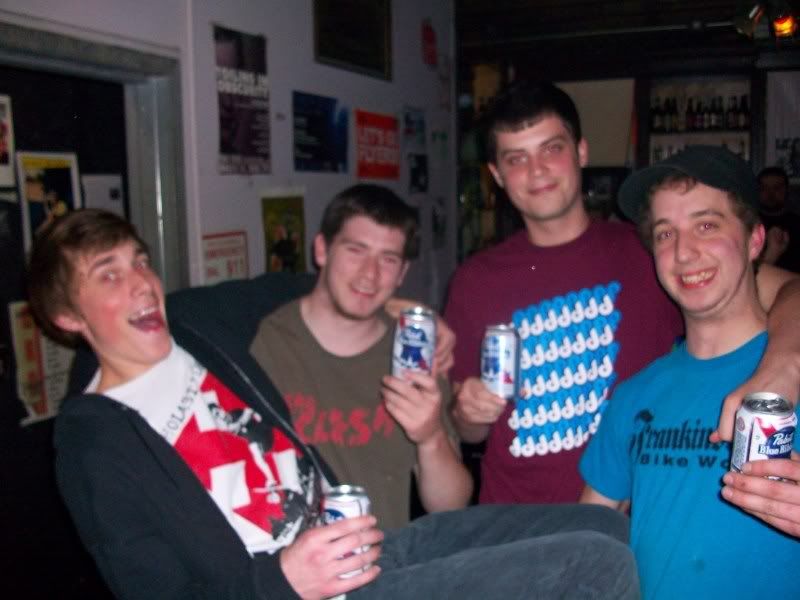 It was an all-MJ 12 final four on their home turf at the Dive.  That's three of them that made it in that blurry picture up there (I'll fix those camera settings this weekend probably) without Grim Trigger but with Sizz Blizz (being held), who was  the only MJ-12 member not in the final 4 on the night. The finals were between Loomer and Billy Shearz and it was a tight match, coming down to one last throw with things tied up in the 5th match but Loomer came out on top.  He took his 2nd tournament in 3 days and set a new in-season career mark for victories with 6 (although PJ Rhymeswithsausage is only one back among active players).
The Majestic 12 could have put together a perfect team score of 24 points on the night if they won street RPS – but that prize went to Miss C.L. Smooth of the newly formed Team Bluetooth.  There was a tie at the end of regulation – if memory serves only the 2nd time that's ever happened – between Miss Smooth and Frankie 13 with 87 a piece, so they decided it tournament style.  Miss C.L. Smooth polished off Frankie 13 in a 2 match to 1 game and took all the money – currently putting her up top of the standings for the street prize after week 1.  [Editor's note - if you didn't know, smarmy is totally a synonym of smooth]
Congrats to Scrim Brindle, who won the 2nd no-points-awarded tournament on the night.  He beat RPS legend C. Urbanus in the finals, which is quite impressive.  Even more impressive is that Loomer shut him out in the first round of the first tournament.
Leave a Reply
You must be logged in to post a comment.