Jul 7, 2009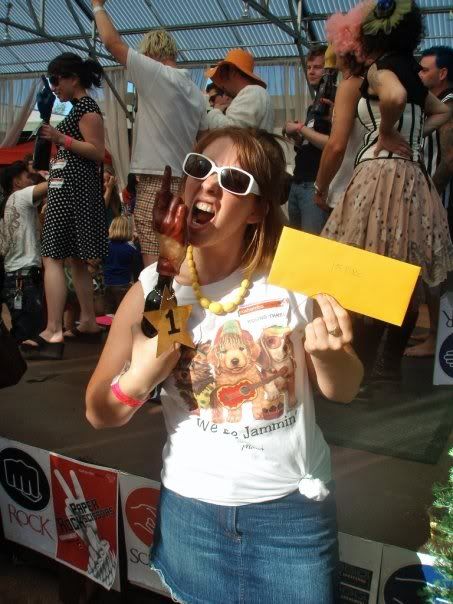 Plenty of things happen at the always fantastic annual Rock Paper Scissors Tournament out at Roshambo Winery – some good, some bad.  But hey this one's really good!  Seems former Feed the Pony alums Rock Doctor and his personal trainer Bango Mango did quite well out there with Bango Mango winning the whole thing!  Here's the full press release (note: "immediate" can often be interpreted as within a month and 1 day):
***FOR IMMEDIATE RELEASE***
NEWS FLASH: BEST IN THE WEST
June 6, 2009
Sonoma, CA – Bango Mango, a resident of San Jose, has won 1st place in the Roshambo Winery's 7th Annual Rock, Paper, Scissors Championship in Sonoma, California this past Saturday. Ms. Mango, aka "Rock Doctor's girlfriend", toppled challenger after challenger with deft displays of flickering fingers to emerge triumphant over the 192-competitor bracket. A decisive scissors put an end to the 8th and final match, netting her a check for $1000, a 1st place wine-bottle trophy, and bragging rights among the entire RPS community and beyond.
Throughout her stunning performance, she maintained the level-headed grace and calm composure that signifies a professional command over one's sport. However, the road to victory was with littered with obstacles to test her every nerve: the unfamiliarity of the 2-prime shoot, a disconcerting warning card for throwing an upside-down "feed the pony" paper (illegal in California, like gay marriage), and poor judgment from an inebriated and inept referee who could use a lesson in sports mediation from C. Urbanus. Yet her steadfast hands and charming smile overcame these hardships to win the respect of the crowd, the good graces of her defeated foes, and most importantly, the grand prize trophy.Much like the historic victory of Barack Obama over his political rivals, the triumph of Bango Mango over her 191 less crafty-handed opponents, is one destined for the textbooks. This past Saturday marks the first time a PBRPRPSCLCS affiliate has won 1st place in a professional RPS competition (many may recall Vertical Paper's 3rd place finish in the 2007 World Championship in Toronto). She is also the second female fingersmith from the East Coast to take the cake in the Roshambo Winery Championship (a woman from Philadelphia, not connected with the city league, won the 2006 competition while on her honeymoon).Despite becoming a Roshambo sensation literally overnight, Ms. Mango is rooted in humble origins. The Long Island native made her RPS debut at The Dive during the 2006 PBRPRPSCLCS season. She confidently swept the surly competition to claim a solid victory. Most notably, she laid down not one, but two papers thrown consecutively in the palm-upward "feed the pony" style, thus securing her permanent membership with Team Feed the Pony. Only one night of training with the local PBR- and Jim Beam-infused denizens of the smoke-filled Philadelphia dive bar was all she needed to develop her A-game and take the west coast by storm. Bango Mango, with a moniker that evokes fearful threats of exotic tropical fruits smacking their adversaries with abrupt force, has proved to be a top-notch player capable of performing at the highest level. It is worth mentioning that she has never lost a match in competitive play. Many spectators at the tournament, particularly newfound allies from Team RoShamWow!, noted her prowess and agreed that she will certainly be a force to be reckoned with for many years to come.
The Rock Doctor, although not as accomplished as his female companion, enjoyed modest success by placing 3rd in the street competition. His unlikely rise to the prize was the result of his determination and persistence to save face after an embarrassing loss of every hand in the first round to put him out of the running. Drawing from his experience of hustling some of the nation's best RPS talent on the mean streets of Philly, the grifter geologist paraded his rock-like fist around the arena, challenging every costumed competitor in sight. Following bout after bout with the likes of the space cowboy yip-yip creatures, the scantily-clad Hawaiian royalty, and the pregnant Hooters waitress, the good doctor saw his stash of funny money gradually accumulate. The focal match was an epic battle against Master Roshambollah—a full-hustle (first to 10) using a proper 3-prime shoot—that the Rock Doc easily won by a 10-5 margin. The modest victor won yet again in a friendly one-throw challenge for beer, resulting in the grandmaster himself buying a cold delicious Pabst Blue Ribbon for the thirsty rock hound.
After suffering a string of debilitating losses that left him nearly penniless and also fending off thieving girls shoving their greedy little hands down his pockets (seriously, who pickpockets street money?), Rock Doctor realized he could not take on the competition alone. He quickly pooled resources with members of Nor'Cal Team Feed the Pony (Arthur, Shannon, and Bango Mango's mom)—novices who quickly developed a cunning intuition for competitive street play. Together, they formed a skillful batallion unstoppable by all… except for the 1st and 2nd place winners. In the end, they reaped the rewards of their efforts: $250 in gift certificates to gourmet Sonoma-area restaurants and a canoeing trip down one of Northern California's finest lazy rivers.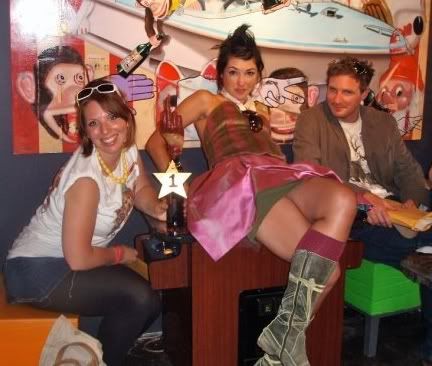 The Rock Doctor and Bango Mango (pictured above, with Roshambo Winery Owner Naomi Brilliant) would also like to wish the best of strategy to the rest of the triumvirate of fruit-themed players, namely El Toro Papaya and Mr. Strawberry (as well as the non fruit-themed Posthumyn), in the 2009 PBRPRPSCLCS Championship this coming Saturday.
Leave a Reply
You must be logged in to post a comment.